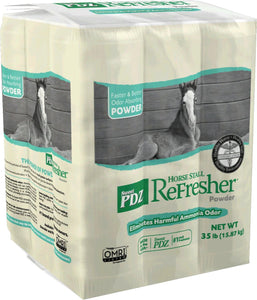 Sweet PDZ Powder Refresher
Sweet PDZ Powder Refresher
Non-toxic refresher that helps neutralize ammonia and odors in your hoofed friend's stall.
Captures noxious, ozone-burning odors from animal waste to improve the respiratory health of your horse.
Features a small granule size that is easy to spread on problem areas.
Organic, recyclable and compostable for eco-friendly pet parents.
Made in the USA from 100% premium grade clinoptilolite mineral.
---
We Also Recommend
---