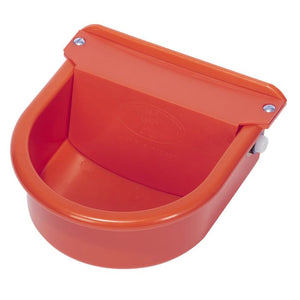 Miller Mfg Plastic Automatic Stock Waterer
Miller Mfg Plastic Automatic Stock Waterer
On your farm, your primary job is to care for your animals. You can use this highly accessible Automatic Filling Plastic Livestock Waterer for your farm friends.
Miller Manufacturing Little Giant Plastic Automatic Stock Waterer Features
Developed with durable materials, you can expect this UV-resistant bowl to last a long time for your animals.
You can mount it to a wall or attach it to a fence to provide your animals with easy access to water. Wherever you place the waterer, be sure that you also have easy access to a water supply and the waterer's connections.
To mount on a wall: Use two 3.8" lag screws.
To attach to a fence: Use two 3/8" bolts or lag screws.
Dish may be secured to a 1/2" pipe or hose with a left or right connection.
Measures: 10" long x 10.75" wide x 5.5" high.
Place outdoors for your livestock such as cattle, horses, pigs and sheep, or use for domestic pets such as dogs and cats.
---
We Also Recommend
---