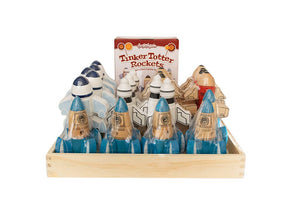 Tinker Totter Rockets
In Store Only.
Tinker Totter Rockets Assortment

These low priced Rockets are the perfect grab and go item, and once customers grab one - they are certain to come back to add to their collection! All pieces of all of our Tinker Totter themed items are mix/match and have universal fits so really the play is endless. Combine with other Robots, or Rockets, or Monsters! Works out to $4 each cost (with a free display)! These adorable rockets will please space-crazy kids and their eco-minded parents! Everyone loves to stack and connect the chunky components to create colorful robots of all shapes and sizes. The BeginAgain Tinker totter rockets builds off our popular Tinker totter robots, making for all kinds of combinations of space adventures. Designed to foster creativity and colorful rockets of all shapes and sizes.
---
We Also Recommend
---