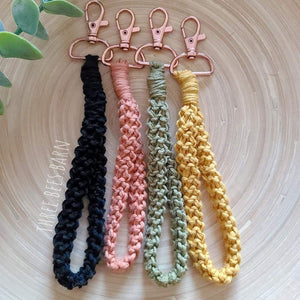 Wristlets
Order now and we'll notify you when your order is available for pick up.
Simple, elegant, timeless Wristlets...
These Wristlets are such a lifesaver when your out and about! Such a classic way to hold onto your keys when your walking through the store or carrying groceries up to door!

No more fumbling and awkwardly digging around for your keys... Trust me, I speak from experience.

These are Ready to ship items but are available in any of the colors in the listing, just send me a message if you have a different color in mind.

Great item to pair with a chapstick holder!

Each wristlet is approximately 7" in length from hook to end. However, due to the handmade nature of these items they may vary slightly in size. Each wristlet is made with 100% cotton yarn. Available with
rose gold or antique brass clip options.
---