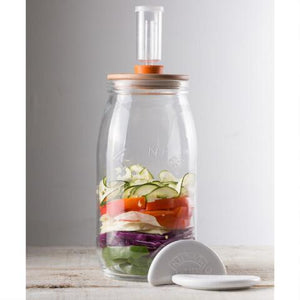 Kilner Fermentation Set 102oz
Kilner Fermentation Set 102oz

Making delicious fermented food packed with vitamins, minerals and probiotic cultures is easy with these sturdy glass jars from Kilner. Each one features a silicone valve in the lid that releases the gas that builds up during the fermentation process.
Simply add your favorite vegetables, water and salt to create sauerkraut, kimchi or pickles.
BPA-free glass jars resist stains and odors. Based in England, Kilner has made glass jars for preserving and pickling food since 1842.
Kit includes: 1 glass fermenting jar, 1 silicone lid 1 airlock 2 ceramic weights.
---
We Also Recommend
---