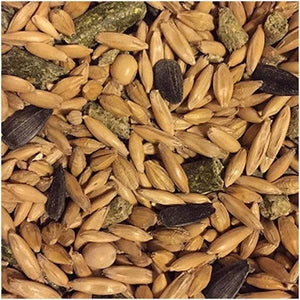 Modesto Milling Organic Horse PLUS Textured
Order now and we'll notify you when your order is available for pick up.
$60.99

$60.99

Save $13.39
---
---
Modesto Milling Organic Horse PLUS Textured 12% 40lbs Item 676

If this item is not in stock we can always special order it for you. Order online anytime and we will notify you when your feed arrives.
Product Details
Organic non-GMO Whole Oats, 50lb bag
Modesto Milling's new PLUS feed is specifically formulated for the horse that needs more calories than our Supplement Pellets provide alone. PLUS is a balanced feed that, when fed within the recommended feeding rates, removes guess work as to whether the horse is getting all the required nutrients (protein, vitamins and minerals) and calories for optimal performance. Horse PLUS combines the Horse Supplement Pellets with high quality organic oats, barley, peas, sunflower seeds, and alfalfa pellets, and works as a great augmentation to alfalfa or grass forages.
Ingredients
Organic Oats,whole, Organic Barley,whole, Organic Sun-dried Alfalfa Pellets, Organic Coconut Meal, Organic Peas, Organic Sunflower Seeds,whole, Organic Sesame Meal, Organic Carrot Pellets, Organic Flaxseed, Monocalcium Phosphate, Ground Limestone, Magnesium Oxide, Salt, Sodium Aluminosilicate, Diatomaceous Earth, Hydrated Sodium Calcium Aluminosilicate, Organic Kelp,dried, Saccharomyces cerevisiae yeast, Organic Flavors(Garlic, Thyme, Anise Oil, Cinnamon,bark,Ceylon, Anise, Rosemary Oil), Manganese Sulfate, Zinc Sulfate, d-alpha Tocopheryl Acetate, Copper Sulfate, Sodium Selenite, Biotin, Thiamine Mononitrate, Riboflavin Supplement, Vitamin A Supplement, Vitamin D3 Supplement.


---
We Also Recommend
---