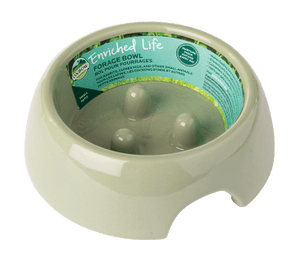 Oxbow Forage Bowl
Oxbow Forage Bowl
Make meal time for your four-legged friend even better with the Oxbow Forage Small Animal Bowl. This bowl provides added entertainment to your best bud's mealtime while encouraging him to eat slower. Measuring lines allow you to give your pet the paw-fect amount of food and the durable construction is easy to clean in the dishwasher. Your guinea pig, rabbit or other small animal will definitely benefit from this helpful bowl!
Key Benefits
Knobs inside help prevent your pet from eating his food too quickly.
Helps make mealtime more interesting for your furry buddy.
Use the measuring lines for accurate feeding.
This bowl is dishwasher safe when it's time to clean.
You will appreciate the durability of this made-to-last bowl.
†Capacity is calculated by total volume. When using container, choose a capacity greater than what you need to prevent overfilling and spills
---
We Also Recommend
---