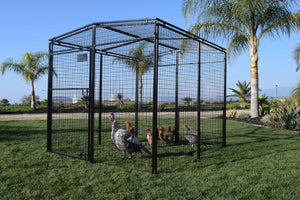 Rugged Ranch Walk-in Run
Order now and we'll notify you when your order is available for pick up.
Rugged Ranch Products 6.3 Foot Universal Walk In Pen, Double Latch Entry
Spacious and tall construction provides comfort for animals and humans alike allowing you to spend time with your outdoor pets safely

Adds security provided by the welded wire roof and double latch entry, protecting your pets from predators

Removable knock-out back panel allows for the addition of select Rugged Ranch houses and hutches; Dimensions (L x W x H): 7.6 x 6.6 x 6.3 feet

Compatible with over a dozen accessory and configuration options to create the ultimate backyard paradise for your animals; Can comfortably house 12 chickens, small dogs, turtles, adult rabbits, cats, baby goats, iguanas, and other similar-sized creatures.
If this item is out of stock, order in advance and we'll have it in the shop for you, or delivered to your doorstep at no extra cost, in about 10 to 14 days.
---
We Also Recommend
---